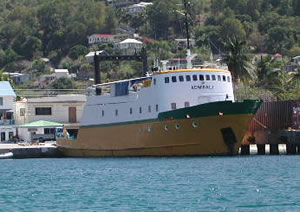 An enjoyable way to arrive in Bequia is by local ferry boat departing from the nations capital, Kingstown, on St. Vincent. Allow 45 minutes from Argyle Airport to the ferry pier in Kingstown. If you have extra time investigate the port area or visit the colorful market place. Your taxi driver can suggest temporary baggage storage or store onboard and take a walk. If time permits, take a short drive to the Botanical Gardens or visit the beautiful old churches nearby. Bequia Express and Admiral Ferries run ferries from Kingstown to Port Elizabeth, Bequia. The anticipation of arrival by sea is not to be missed! The fare is $25 EC one-way $45 EC return (with same company). Distance is approximately nine miles and travel time is about 1 hour. You pay on board. There is a ferry terminal in Kingstown with A/C and snack bar. Mandatory minimum charge is $5 EC.
Fly into St. Vincent on LIAT, SVG Air, and Mustique Airways.
Ferry Schedules
Special Note:
Arriving passengers traveling to Bequia through St. Vincent should plan their arrivals before 4.30PM to connect with the last ferry at 6PM (but do check the latest schedules on the websites below). If you must overnight in St. Vincent we can recommend the Cobblestone Inn, near the ferry pier. You may want to consider a power boat to arrive in Bequia the same day. Costs are set by the captain and can be shared by a group.
If you are making an important connection please contact the ferry company direct or check with the Tourism representatives for current departure times.
Phone contact: Bequia Express 784 458 3472
Bequia Express Ferries Schedule