Hotels on Bequia are small, friendly establishments with a reasonable number of rooms and nothing taller than a palm tree! All have restaurants and most have bars where you may occasionally find live entertainment during the week. Hotel accommodations range from very comfortable, value priced with garden/sea views, to luxurious, island view, or water front units. There is a hotel to meet almost any requirement. You won't be disappointed! Most hotels are on or a very short walk to a beach. Contact the hotels below directly and tell them you saw them on Bequia Net. 
Please Visit Our Sponsors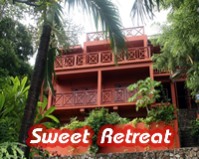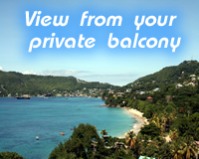 Sweet Retreat is a new small hotel and restaurant with views of Lower Bay beach and village less than a minute walk away. The hotel is comprised of four guest rooms, individually furnished and decorated, including California King platform mahogany beds. With a maximum of 8 guests we can offer that attention to detail you desire. Concierge services  include, water sports, taxis, sailing, picnics, fishing, scuba diving. This eco-friendly resort is a laid back respite from the norm.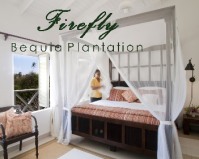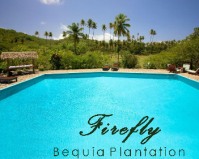 Built on the foundations of a West Indian 18th century homestead, Firefly Plantation is set in 30 lush and tropical acres with spectacular views of the Caribbean Sea. The luxurious guest rooms have stunning views from their own private balconies across the plantation to the beach and Caribbean sea. All rooms have wi fi, A/C, iPod docking stations, quality toiletries, fixtures and linens. An oversized sparkling swimming pool with sun loungers and shaded gazebos invites you to relax away the day in comfort, and the open air restaurant and bar serves great cocktails and fresh local food.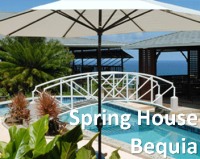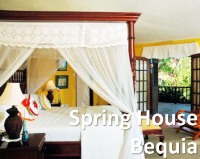 Spring House is an exclusive, luxury, 5 star, hotel set in two acres of private grounds, located just six minutes from the sometimes noisy center of Port Elizabeth. Frequented by celebrities, admired for its privacy, security and quality, and described as a 'Mustique hotel on Bequia'.  Steady tropical breezes caress the private balconies of our 10 air-conditioned suites with 4 poster beds, 40ft pool, full staff and much more. Perfect for getaways, groups or weddings. This is the reason you are coming to the Grenadines.
Bequia: (+1) 784-457-3707
UK: (+44) 2035-140002
USA: (+1) 800-324-9530

Overlooking the beautiful Friendship Bay, Sugarapple Inn is a classic Caribbean Hotel with only 8 rooms, a fantastic pool and great views awaiting you. Our service is renowned and the pleasure of your stay is our business. A/C, wireless, cell phones, dive packages, flat screen TV, and concierge service.
| | | | | | | | | | | | | | | | | |
| --- | --- | --- | --- | --- | --- | --- | --- | --- | --- | --- | --- | --- | --- | --- | --- | --- |
| HOTEL | Location | Meal Plan | # Rooms | Pvt. Bath / (S)hare | A\C | Hot Water | TV | Near Beach | Pool | Ten. Court | Rest. | Bar | Maid Svs | Tele. # (784) | Fax # (784) | E-Mail |
| Julie's Guest House | Port Elizabeth | MAP | 19 | X | | | | X | | | X | X | X | 458- 3304 | 458-3812 | |
| | Belmont | EP | 15 | X/S | X | X | | X | | X | X | X | X | 458-3255 | 458-3824 | |
| | Belmont | EP | 9 | X | X | X | X | X | | X | X | X | X | 458- 3800 | 458- 3907 | |
| Bamboo Chute | Belmont | | 4 | X | X | X | | X | | | X | X | X | 457-3175 | | |
| Whaleboner Inn | Belmont | | 6 | X | | | | X | X | | X | X | | 458- 3233 | | |
| | Spring | EP | 6 | X | X | X | X | X | X | X | X | X | X | 458- 3414 | 488- 8514 | |
| | Crescent | CP | 8 | X | | X | | X | X | X | X | X | X | 458- 3400 | | |
| | Lower Bay | MAP | 11 | X | | X | | X | | | X | X | X | 458-3530 | 457- 3313 | |
| Lower Bay Guest House | Lower Bay | | 8 | S | | | | X | | | | | X | 458- 3675 | | |
| | Lower Bay | | 4 | X | | X | | X | | | X | X | X | 498-3921 or 457-3037 | | |
| | Friendship | | 29 | X | X | X | | X | X | | X | X | X | 458- 1600 | 458- 1700 | |
| | Friendship | | 8 | X | | X | | X | X | | | | X | 458- 3148 | | |
| | Friendship | | 4 | X | X | X | X | X | | | | | X | 284-495-4467 | 284-495-4036 | |