Poet Laureate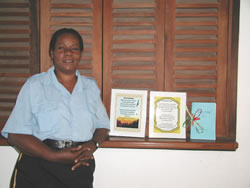 I first met Silma Duncan when passing through the Bequia Airport where she works as a Security Officer. A taxi driver friend had recommended a visit with her and I was not disappointed. Silma takes her job very seriously but it is obvious her first love is poetry. With a little encouragement she will expressively recite one of her poems for the listener. Silma's books of poetry can be obtained at the Bequia Airport as well as the Bequia Bookstore in Port Elizabeth.
Dubbed the Poet Laureate of St. Vincent and the Grenadines, she has been recognized by St. James Palace for a poem honoring the late Princess Diana. She has been written up in "Caraibes" magazine and published in the London Independent. One of my favorite poems "A Day In The Life Of A Turtle" is reprinted, with permission, below.
Update:  Silma released her fourth book "My Island and Me" August 2007, her poetry covers a wide range of subjects. She examines issues ranging from love, suicide, relationships, the treatment of women, island life and a tribute to the famous Black Carib leader Joseph Chatoyer, who commanded the Caribs as well as French soldiers against the British military. The poem "B.E.Q.U.I.A" from this collection is reprinted below.  Webmaster
A Day In The Life Of A Turtle
I rose to the surface and took a deep breath of fresh air
The day was sunny, the sky was clear.
Getting quite hungry, I need something to eat
I nibbled on some jelly fish it was quite a treat.
I swam to the shore with my other friends
Hoping the bright sunshine would not come to an end
Chasing small crabs in and out of their holes
Snapping and flapping it was a sight to behold.
There were some eggs to be laid in the sand that day
We started digging the holes to hide them away
Living the life of a turtle was an amazing sight to see
Doing the things like them, was great fun for me.
I was so fortunate I didn't get caught in the net
A day in the life of a turtle I will never forget.
Men, sharks and plastic bags are our worst enemy
Survival is a chance in and out of the sea.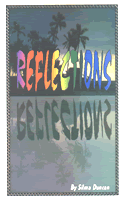 B.E.Q.U.I.A
Beneath the golden sun is a place called paradise
It's no unique and rare. It's the peoples choice
Everyone is welcomed to visit Whether they are coming from far or near
Quietness, peace and comfort it offers to all
Unspoiled, so serene.
In our island everyone is friendly and wears a smile
Always remember Bequia. It's the natural place to be.
You can enjoy your vacation in our warm Caribbean sun and sea.
Silma is currently self- published and seeking a publisher interested in her work, she can be contacted at:
Silma Duncan
Union Vale
Port Elizabeth, Bequia
St. Vincent and the Grenadines
West Indies
Tel: 784.458.3712
Email: svd161@hotmail.com