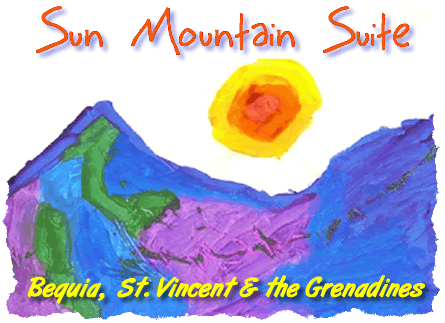 If you have ever dreamed of a tropical isle surrounded by pristine beaches, azure waters, and cooled by soft sea breezes, Bequia is your dream come true. Sun Mountain Suite is part of that special dream.
Sun Mountain Suite is located on top of Bequia's Mt. Pleasant and enjoys a panoramic view that is truly outstanding. The property is bathed by cooling breezes from the east so you can sleep in comfort without the need of an air-conditioner.
The one bedroom suite, located on the lower floor of Sun Mountain Villa is generous in both size and appointments. There is hot water in both the spacious bath and well appointed kitchen. The bedroom is comfortably large and is furnished with a quality queen sized bed and cable television. The kitchen is modern and well equipped with new refrigerator, gas stove and oven. The usual kitchen appliances, microwave, blender, coffee and tea makers are there for your convenience.
Your host will welcome you with cocktails and an island orientation on the veranda while you view the first tropical sunset of your holiday. The suite's outdoor patio faces the Atlantic Ocean to the east, and you can enjoy the special beauty of a tropical sunrise over nearby islands. We recommend a rental vehicle to maximize your appreciation of our numerous beaches and small shops or you may choose to hire a local open back taxi if you prefer.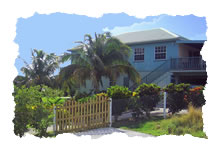 Nature hikes, snorkeling, boat trips to deserted islands, sailing excursions, fishing, scuba diving and just plain relaxing are just a few of the offerings on our peaceful, friendly island.
Your hosts are conversant in Scandinavian languages as well as English, French and Creole patois. Most importantly we communicate in the language of congeniality, dedicated to making your stay in Sun Mountain Suite truly memorable and one we hope you will want to repeat again and again.
Now with free WiFi.
Rates are:
High Season ( December to April Inclusive)
$750 US per week
Low Season( May to November Inclusive)
$600 US per week
Reduced rates can be negotiated for stays of five or more weeks.
Minimum stay is one week; additional partial weeks are on a pro-rata basis.
A deposit of 50% is required to confirm the reservation. The remaining 50% is required 30 days before arrival.
Cancellations 30 days before arrival will be refunded less 10% of the total booking.
Contact:
George Mitchell and Dagrunn Solfjell
Tel: 784 457 3645
Email:dee.s.mitchell@live.ca
NEW! See a Satellite Image of Sun Mountain Villa's location
We look forward to your visit to Sun Mountain Suite in Bequia.